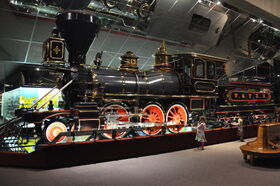 The Virginia & Truckee No. 13 named, Empire is a 2-6-0 "Mogul" type steam locomotive, built by the Baldwin Locomotive Works in 1873 for the Virginia & Truckee Railroad. This locomotive spent its long life as a freight engine.
In 1910, it was converted from a wood burner to an oil burner, and was renumbered #15, perhaps because engine crews thought #13 unlucky. The locomotive retired in 1918 and was sold to the Pacific Portland Cement Company, in Gerlach, NV, in 1924 as #501. It worked as a switcher for the plant ere it was retired again in 1931.
In 1938, Empire was presented to the Pacific Coast Chapter of the Railway and Locomotive Historical Society for preservation. The organization worked for years to promote the idea of a railroad museum, donating 30 historic locomotives and cars to the California Department of Parks and Recreation to be the nucleus of a State-owned-and-operated Museum in Sacramento.
In 1976, #13 was moved to join the museum's collection at its first facility, the former Central Pacific Railroad Passenger Station. Two years later, a complete restoration based on period photographs and original drawings returned #13 to very much how it looked when it was delivered to the V&T in 1873. Having been cosmetically restored to her 'as built' appearance, she went on display in the new History Museum building upon its opening in 1981. It remains there today.
Trivia
[
]
Muir from "Planes: Fire & Rescue" is based on this engine.
This locomotive is one of only 3 remaining V&T 2-6-0 locomotives left in existence.