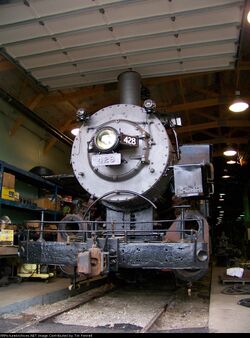 Union Pacific No 428 is a 2-8-0 steam locomotive built by the Baldwin locomotive works in 1900 for the Union Pacific Railroad. 
During its first two decades, UP 428 worked freights on UP's lines from Omaha and Kansas City to Denver, Salt Lake City, Portland, and Los Angeles.
After World War I, as larger power became available, it was relegated to branch lines for another quarter-century of service. Following the end of World War II, UP determined that the locomotive was still basically sound, and completed an extensive rebuilding.
UP 428 continued to operate on a branch line out of Grand Island, Nebraska until late 1958, long after virtually the entire railroad industry had been dieselized. During its branch line service, UP 428 handled freight, maintenance-of-way duties, and even mixed trains (with a passenger coach or combine tacked onto a string of freight cars).
The locomotive was donated the next year to a Missouri museum, where it remained until 1969 then later that same year the Illinois Railway Museum purchased the 428 and it was Selected as a candidate for operational restoration, the 428 was moved into the Steam Shop, but for many years it was overshadowed by operational steam locomotives.
Today the 428 is still at the Illinois Railway Museum but it's still in the Steam Shop for restoration to operating condition.
In October 1958, Union Pacific 428 became the last steam locomotive to pull a regularly scheduled passenger accommodation on the UP. It stood in for diesels on the Grand Island-Ord mixed train during the fall grain rush that saw the last runs of the 800-class Northerns, the Challengers, and the legendary Big Boys. Two years earlier, after three months in work train service, it powered the last steam-operated train on the Kearney-Stapleton branch on March 1, 1956.
Community content is available under
CC-BY-SA
unless otherwise noted.