A throttle (or regulator) is a handle that starts or moves a locomotive on a train, and serves as a "gas pedal" like with an automobile.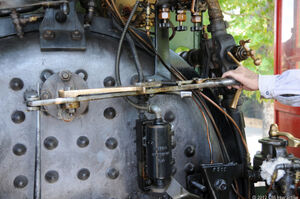 Throttles vary in all shapes and sizes, and can vary in style and with the way their positioned in the cab of a certain locomotive.
In modern diesel/electric locomotives, there are throttles that resemble or look like a boat multi-lever (mainly for motorboats). In the early diesel/electric locomotives there are throttles which resemble steering wheels, while steam locomotives have handles which resemble levers for various vintage machines and devices. Such as a steam generator for a powerplant.
Community content is available under
CC-BY-SA
unless otherwise noted.