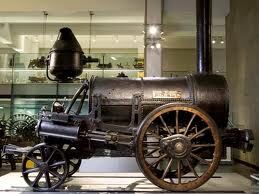 Stephenson's Rocket is a type of early 0-2-2 steam locomotive built in Newcastle at the Forth Street Works of Robert Stephenson and Company in 1829. The Rocket was one of the first steam locomotives to have multiple boiler tubes.
Rocket is perhaps one of the most famous and iconic steam locomotives, which was also one of the very first types of successful steam locomotives ever built and is responsible for launching the steam age at the Liverpool and Manchester Railway's Rainhill Trials of 1829. However, only through stroke of luck did Rocket make it to the Trials. Since the locomotive was built at the Stephenson's Newcastle-Upon-Tyne Locomotive factory, the Stephensons originally wanted to ship it to Liverpool on a boat around Scotland because of the poor state of roads at the time. Fortunately, they missed the boat, which sank into the North Sea. Innovations beside the firetube boiler include a blast pipe, which sucked in the exhaust steam from the cylinders into the chimney to create a continuous vacuum, thus increasing draught and firing efficiency; a seperate firebox protected by double layers of steel and a layer of water; and cylinders connected directly to the driving wheels, which differed from the complicated arrangement used on the world's first steam locomotive designed by Richard Trevethick.
The real Rocket, now rebuilt, lives at the Science Museum in London while a replica, built in 1979, lives at the National Railway Museum in York, UK. There is also another replica Rocket living at the NRM (National Railway Museum), built in 1935 as a cut-away reproduction, numbered 4089.
During 2007, the 1979 replica was withdrawn because its ten-year boiler certificate had long expired. In addition to this, the museum plans to fit a new boiler with a riveted copper firebox and more accurate frames. The NRM managed to raise funds for the replica's next overhaul at the Flour Mill Boiler Works in the Forest of Dean, which was completed in January, 2010. Now, Rocket's replica is back at the National Railway Museum giving rides on the demonstration line. 
Community content is available under
CC-BY-SA
unless otherwise noted.