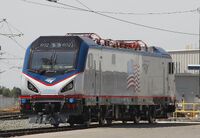 The AmtrakCitySprinter6400=ACS64 is a 4PowerAxle=BoBo OverHeadLineElectric=OHLE 8600hp=6400kw Lokomotive built in Sacramento USCa by Siemens. The design complies with AMTraK=AMTK + AmericanPublicTransitAssoc=APTA + FederalRailAdmin=FRA standards & specifications, including "Crash Worthiness": the mono body is designed to 800kLbs buff strength with FullWidth AntiClimbers and PushBack AARH\TightLock couplers, all part of the Crash Energy Management System. The initial design was a single cab end & later changed to have a cab at both ends.
Amtrak ordered 70 ACS64s, road numbers 600~670, for 2013~2016 delivery, as replacements for aging ElectroMotive.AEM7s (being scrapped or sold) & unreliable Bombardier.HHP8s (being returned to factory), to service NorthEastRegional=NER trains with AmFleet coaches. The Amtrak purchase complies with US government "Buy American" rules: parts from Siemens plants in USCa, USOh, USGa, USMs, & ~70 suppliers across the US are used. SouthEastPennsylvaniaTransitAuthority=SEPTA also ordered 13 ACS64s for 2018 delivery, with an option for 5 more units.
The ACS64 made its first revenue run 2014Feb07 as Amtrak NorthEast Regional Train 152. Siemens.ACS64~Amtrak#601 was leading Northeast Regional Train 188 during a wreck at Philadelphia USPA on 2015May12, killing 8 & injuring >200: Amtrak#601 is now withdrawn & being scavenged for spare parts. Amtrak#627 was damaged in a 2016 collision with a backhoe at Chester USPa.
Community content is available under
CC-BY-SA
unless otherwise noted.