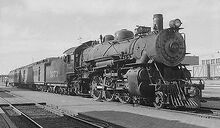 The Santa Fe (ATSF) No. 1373 was a 1337 class 4-6-2 "Pacific" type steam locomotive built in 1913 by Baldwin for the Atchison, Topeka & Santa Fe Railway. It was built as a Schmidt-superheated balanced compound locomotive, but was rebuilt into a simple expansion locomotive in June 1922. It remained in service until February 14th, 1949, when it was dispatched to Kaiser Corp for scrapping.
Trivia
[
]
The locomotive was casted in Laurel & Hardy's 'Berth Marks' in 1929
It was also featured in the Our Gang episode 'Railroadin'
This article is a stub. You can help Locomotive Wiki by expanding it.