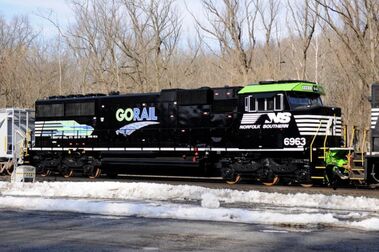 The SD60E program was designed to upgrade 1980' s SD60 with current electronic controls and crash-worthiness upgrades. This program is the most innovative and ambitious program yet. The rebuilds feature some in-house innovations, the most obvious being the NS-designed Crescent Cab, it meets FRA Crash-worthiness standards and is manufactured by Curry Supply of Curry,Pa.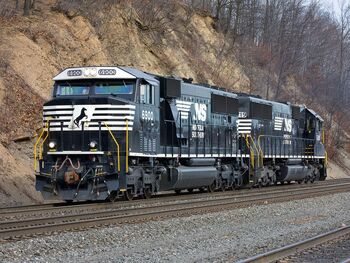 The rebuilds receive a Tier 0+ 16-710G3B prime mover rated at 4,000 hp, compared to the standard SD60's 3,800 hp. The engines' performance  is enhanced even more by electronic fuel injection and a "patent-pending split-cooling system designed by Don Faulker and Juniata Mechanical Supervisor Bill Thompson." (Locomotive 2012, 46) This makes the locomotives be 7% more fuel efficient. The rebuilds also receive a new electrical cabinet and wiring, EM2000 mocroprocessors and Knorr CCB 26 electronic brake. 
All 160 SD60's on NS's roster have been or will be cycled through for rebuild. These include 135 NS units purchased new and 25 units acquired in 2012 from Helm. In 2013 25 more SD60's were purchased from Helm, these will likely be rebuilt as well. NS currently has around 100 SD60E's in active service. #7010 is the most recently completed unit. 
NS #6920 has been painted in a special paint scheme honoring veterans. 
NS #6963 was painted very recently to honor Go-Rail's 10th Anniversary.
NS #911 was originally supposed to be #7003, but was painted in a special paint scheme to honor first responders, and was numbered 911.
Sources include: http://www.altoonaworks.info/ and Trains' Locomotive 2012. 
Community content is available under
CC-BY-SA
unless otherwise noted.