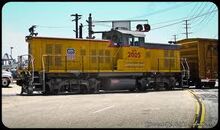 UPY; Union Pacific Yard, 2GS14B (UPY #2005 to be exact) is a type of four-axle, twin-engined 1,400hp (powered by two Cummins 700hp engines), center-cab switching diesel locomotive (also known as a Genset) built by the NRE (National Railway Equipment) company in 2005.
The type of locomotive is a unique, "one-of-a-kind" type of low-emissions US EPA "Tier 2" compliant switcher rebuilt from former Southern Pacific (SP) MP15DC #2690. Reminiscent of an Alco C-415 center-cab switcher, the 2GS14B was built as part of the NRE's affiliation with UP beginning in 2002 to develop an "energy-efficient"  locomotive that was intentded for yard and switching service. UP's Mike Iden was the individual to invent the genset locomotive idea and the leader on this project with NRE. The Idea behind the project was efficiancy. Since say, an SD38-2 was used in a yard to kick cars around. That unit's prime mover would be running all fo that time. However, with a genset in the same situation only two genset modules would be running. saving fuel and using only 1,400 hp.
The 2GS14B prototype (UPY #2005) was first built in early-2005 and was first demonstrated and tested at one of the NRE's facilities in Mt. Vernon, Illinois ( and UP's Proviso Yard in Chicago,IL's Western Suburbs.) before eventually being delivered to the Union Pacific in November the same year.
UPY #2005 currently resides in Union Pacific's Mead Yard in Long Beach, CA in storage/deadline.
UPY #2005 had its lettering changed numerous times, yet has still worn the same livery since delivery.
This unit and Union Pacific sparked the GenSet Locomotive revolution, BNSF, CSX,NS,KCS,FWWR, and several industrial operators roster gensets. 
Many 2GS14B locomotives have been built; howerer, UPY 2005 is the only genset with a center cab.
http://www.trainweb.org/gensets/nre/upy/2005.html
http://www.uprr.com/newsinfo/railr
Community content is available under
CC-BY-SA
unless otherwise noted.