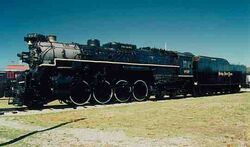 The Lima Berkshire is a type of 2-8-4 steam locomotive built by the Lima Locomotive Works from 1925 to 1949 (with various others built between such dates and on into 1953).
The name itself, eventually became the official name for the once rare 2-8-4 wheel-arranged steam locomotives.
Many were built for the C&O (Chesapeake and Ohio), NKP (Nickel Plate Road), and PM (Pere Marquette Railroad) US Class 1 railroads.
Several are preserved, while one (NKP #765) currently operates steam excursions under Norfolk Southern's revived steam program.
The Lima Berkshires became one of the first (and one of the only) major types of 2-8-4 steam locomotives, because of the 2-8-4 wheel-arrangement was once rare on 80% of average steam locomotives, and they served as a replacement for the NKP's aging 2-8-2 'Mikado' steam locomotives, and were numbered in the 700-series as opposed to the 2-8-2's being numbered in the 500-series.
The C&O purchased their Berkshires to be used on their shorter-distance passenger trains, and occasionally were seen and used as helpers for coal trains, and/or spare locomotives for short and heavy freight trains; while the PMRR used them for the same inital purpose shortly before being purchased and absorbed by the C&O.
They were one of the very last type of steam locomotives built in the U.S (aside from ALCO's FEF Series). Many are preserved, and are also in the process of being restored, or have been operating steam excursions. They are considered to be some of the largest and heaviest standard "prime-mover" (tender) steam locomotives ever built.
As of 2012, over 20 or so Berkshires are preserved from C&O, PMRR, and NKP heritage.
PM (Pere Marquette Railroad) Berkshire No. 1225 is the locomotive which "The Polar Express" locomotive is based. It was chosen for the book by author Chris Van Allsburg, because its number is 1225, and can be viewed as the date of December 25th (since the book was about Christmas); as well as the fact that 1225 is one of the author's favorite locomotives.
The type of steam locomotive itself, actually had the 2-8-4 wheel arrangement named after the type or class, mainly because of it being the most well-known type of 2-8-4 steam locomotive.
"The Polar Express" film produced by Robert Zemeckis features a CGI 1225 which is based on Chris Van Allsburg's drawings.
Special features disc in Two-Disc Widescreen Edition: "The Polar Express".
Community content is available under
CC-BY-SA
unless otherwise noted.