The KiHa 07 series, formerly known as the KiHa 42000 and KiHa 42500 series, is a Japanese diesel multiple unit. Built from 1934 to 1952 for JNR, the KiHa 07 series was widely used around Japan, although their use was diminished with the introduction of newer diesel cars and were all retired by 1969.
History
[
]
Built from 1934 to 1937 and again in 1952 by Kawasaki Sharyō (now known as Kawasaki Heavy Industries), Niigata Tekkō (now known as Niigata Transys), Nippon Sharyo and Tokyu Car Corporation (now known as J-TREC), the KiHa 07 series was the largest diesel railcar in use on the JNR at the time. The cars were also used throughout the war period.
The cars were slowly relegated to other private railways starting in 1955, with all KiHa 07 series cars on the JNR lines being retired by 1969.
Design
[
]
The cars have a slightly streamlined style and a single top-mounted headlamp; later locomotives use side-mounted headlamps.
Specifications
[
]
Construction is of steel. Each car is 19 meters long. The cars all use GMH17 prime movers; this prime mover would become the basis of the later DMH17 prime mover, which would become one of the most ubiquitous prime movers in use in Japan.
Incidents
[
]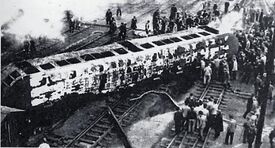 On 29 January 1940, a three-car KiHa 42000 series set derailed near Ajikawaguchi Station on the Nishinari Line (some portions of which are now part of the JR West Sakurajima Line) at around 6:55am JST. The derailment was caused by the human error relating to the operation of a set of railroad switches, where a station staff member changed the points while the train was still on the railroad switch. This caused one of the wheels of the car affected, 42056, to straddle between the two rails and derail. The gasoline in the tank ignited and set the train ablaze shortly after. 189 people were killed and 69 were injured as a result, with two members of the station staff present during the incident given a two-year prison sentence due to negligence. A memorial was later erected at Ajikawaguchi Station to commemorate the incident and to remember those who lost their lives.
References
[
]