JNR Class C55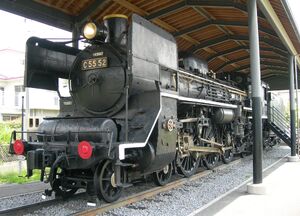 C55 52 preserved at Yoshimatsu Station in August 2009.
Details

Years built

1935 – 1937

Builder(s)

Hitachi, Kawasaki Sharyō, Kisha Seizō, Mitsubishi Heavy Industries

Number Produced

62 + 9 derivative

Years in Operation

1935 – 1975

Fleet Numbers

C55 1 – C55 62

4-6-2

Number Preserved

4 + 1 derivative (none operational)

Number Scrapped

58

Dimensions
(l × w × h)

66 ft 6 in × Unknown × 12 ft 11 in

Gauge

3 ft 6 in (1,067 mm)

Maximum speed

Unknown
V - E - T - D
The JNR Class C55 is a 4-6-2 Pacific-type steam locomotive built for the JNR from 1935 to 1937.
The C55s were used mainly as passenger locomotives and were used around the Honshu, Kyushu and Hokkaido regions. Following in the veins of the Americans, C55 locomotives C55 20 to C55 40 were constructed as streamlined locomotives. The locomotives were retired in 1975. Nine locomotives were later transferred to Taiwan where they saw service there as Class CT250s and were retired in 1982.
Four C55s, namely C55 1, C55 46 (renumbered C55 53), C55 50 and C55 52, are preserved at various locations around Japan; C55 1 is located at the Kyoto Railway Museum, C55 46 is located at Wakakusa Park in Oita, C55 50 is located at the Otaru Museum in Otaru, Hokkaido and C55 52 is located in front of Yoshimatsu Station in Yoshimatsu, Kagoshima. None of the locomotives are actually operational. Taiwanese CT250 class locomotive CT259 is also preserved in Kaohsiung City, but is not operational either.
A fifth sample, C55 49, was preserved, but was scrapped in 1996 due to extensive salt corrosion to the boiler; only one of the driving wheels remains, plinthed on a stone foundation with the C55 49 badge on it.
The locomotives are popularly known as Shigogo (C55 in Japanese) among railfans.
References
Edit
Community content is available under
CC-BY-SA
unless otherwise noted.