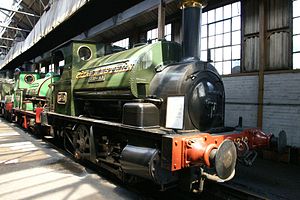 The GWR "Avonside" saddle tank engine is a 0-4-0ST type of steam locomotive. Several different versions and variants were built, and most were purchased for the Great Western Railway (GWR).
Many were also built with added sandboxes, like with GWR 57xx's. They originally were owned by private contractors. Many were scrapped, while others have been preserved, for example number 1340 "Trojan".
Percy The Small Engine
The Avonside Saddle Tank is the basis for Percy The Small Engine from "The Railway Series" by The Rev. W. Awdry, however Percy has a taller smokebox and a different cab design.
This article is a stub. You can help Locomotive Wiki by expanding it.