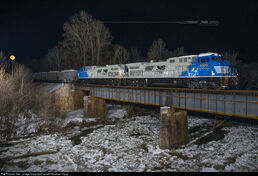 Building off of the BNSF program, NS and GE embarked on a rebuild initiative very similar to the AC44C4M program. The goal here is to turn NS's C40-9 (standard cab) into wide cab AC-traction locomotives - essentially a new AC4400CW. Unlike the BNSF program, these will use C-C trucks (six powered axles) vs. A1A-A1A (four powered axles, middle axle of each truck unpowered) arrangement. The C40-9's undergo an extensive rebuild : A new wide cab, AC-traction equipment, emissions upgrades, new trucks and they are ballasted to 432,000 lbs. Norfolk Southern is planning a much more ambitious program than BNSF as NS wishes to rebuild all 125 C40-9's and then move to their C44-9W fleet which is more than 1200 units strong. The rebuild work is being contracted out to American Motive Power (AMP) in Dansville, NY by GE or being done by NS at Roanoke. Two units were completed and released in December 2015. 4000, and 4001 were rebuilt in 2015 from 8799 and 8879, respectively. They are in a striking version of the NS scheme - light blue and grey with yellow stripes. 16 AC44C6M's were completed by GE (12) and NS (4). 50+ rebuilds are on the books for 2017 with work being split between NS Roanoke, NS Juniata and GE Fort Worth.
2017: NS #4001 was wrecked in the spring and is at Juniata pending evaluation.
2017: NS has earmarked 500 C44-9W's for rebuild to AC44C6M specs between now and 2022.
2017: CP has sent 30 AC4400CW's for rebuild to AC4400CWM (the same specs as AC44C6M) except the cores were built with AC traction to begin with. The cabs get replaced and the electronics are updated. Many are already in service. They reside in the 8100 series.
2018: The GE rebuilding craze continues with Union Pacific now joining in. Union Pacific sent C44/60AC (derated AC6000CW) #7342 to GE Erie for rebuilding. The unit, unlike other GE rebuilds, only got updated control systems and new wiring. No new cabs or AC equipment upgrades for these units. The unit is now testing at Erie. UP selected 20 more C44/60AC's to be rebuilt to what the railroad is calling C44ACM. As of October 2018, UP has signed an agreement with GE to do 1,000 additional C44ACM rebuilds through 2033 (175 units will be rebuilt per year).
Community content is available under
CC-BY-SA
unless otherwise noted.