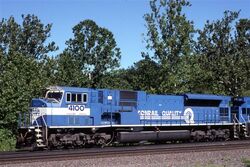 The EMD SD80MAC is a six-axle, 5,000-horsepower, AC-traction diesel locomotive built from 1995 to 1996. Only 30 examples were ever built, all purchased by Conrail. Today, all were owned by Norfolk Southern.
History
[
]
After the initial success of the SD70MAC, one of the very first major types of single-engined AC-traction diesel locomotives produced for the North American locomotive market, EMD introduced the SD80MAC as a step below its goal of 6,000 horsepower. The SD80MAC was the first EMD locomotive to utilize a V20 engine since the SD45. SD80MAC's were the first AC-traction diesel locomotives owned by Conrail. They were used on Conrail's long and heavy coal trains through their Allegheny Mountain routes in Pennsylvania, West Virginia, Virginia, and New York.
The EMD SD80MAC is generally considered successful, but its high cost, unique controls, plus competition from General Electric's AC6000CW caused few orders to be generated. The Chicago and Northwestern Railroad (CNW) placed an order for 15 units, and Canadian Pacific (CP) originally intended on ordering units, but UP purchased CNW in 1995 and the demonstrations of SD90MAC's on CP were more successful; the orders for SD80MACs were cancelled, and Conrail remained the only customer to fulfill their purchase.
After the split-up of Conrail in 1999, 13 of Conrail's SD80MAC's went to CSX Transportation, and the other 18 went to Norfolk Southern.
In early 2015, Norfolk Southern acquired all 12 of CSX's remaining SD80MAC's as part of a power trade. NS is now the only railroad currently operating SD80MAC's, as well as the only railroad ever to have operated SD80MAC's and SD90MAC's simultaneously.
As of 2020, NS has sold 6 of the the SD80MAC's to CP for parts, and the rest of the 80MAC's to PRLX. As of late 2021-early 2022, all 23 SD80MAC's owned by PRLX have been scrapped despite Conrail Historical Society's attempts to preserve them. The only remaining 80MAC's are owned by Canadian Pacific, being used for parts for the SD70ACu rebuilds.
Trivia
[
]
Conrail's fleet of EMD SD80MAC's were also painted in an exclusive scheme to distinguish them from other units.
The last remaining Conrail-painted SD80MAC was repainted into Norfolk Southern's scheme in 2009.
Once CSX finished repainting their fleet of SD80MAC's, they were renumbered from their original 800-series number fleet.
CSX #4590 (former #800) recieved small "Spirit of Benning" stenciling on the cab/nose sides.
NS has retained the original "Radial-AC" slogans from Conrail on several repainted units.
CSX left their original marker lights, while NS removed them from its units.
All CSX SD80MAC's were painted into YN3 paint except for one, #4591 (former #801). This unit was painted in YN2 paint and finally repainted to YN3 in 2011. CSX #4598 recieved the YN3b paint scheme which includes the "How Tomorrow Moves" logo in September 2014.  
One SD80MAC, CSX #4594, was scrapped in 2014 after a wreck.  
Gallery
[
]
Sources
[
]