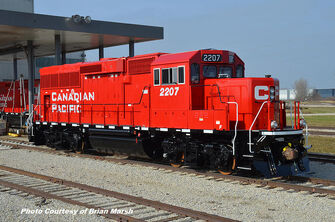 The GP20C-ECO is another variant in EMD's ever-growing ECO repower catalog. The program launched by EMD in 2008. The EMD ECO program has since branched out to other models. The core unit receives a rail up rebuild, the old 567 or 645 prime mover is removed and a new 8–710G3A (T0+) prime mover is implanted, the units also receive new computers (EM2000), new cabs and carbodies. This yields a 15+% reduction in fuel usage and brings to locomotive up Tier 0+ standards. These units achieve 2,000 hp. These are the first units in EMD's ECO program not to be built to Tier 2 standards. As a cost saving measure CP had the units built to the much more relaxed standards. CP used GP9/GP9u/GP9r cores for the initial 30 unit order. The units started arriving very early in 2013. The units have cabs that meet current crash-worthiness standards. The CP order of ECO repowers is the largest to date.
CP is the only customer to order this ECO variant so far. The units carry numbers 2200-2327. The order is very close to being completed.
Engineering Specs
Edit
These locomotives are constructed on the frames of older GP series locomotives, usually GP9s, the carbodies and cabs are removed and replaced with lighter ones and the older power unit is replaced with an EMD 8-710G3 and exhaust filtering is added to remove nitrates and particulate material. The original generators are also removed and are replaced with alternators and silicon rectifiers to drive the DC traction motors.
Decoding this EMD ECO model
Edit
GP- General Purpose (core unit)
C- Meet Crash-worthiness standards
ECO- rebuilt w/ a 710ECO prime mover
Community content is available under
CC-BY-SA
unless otherwise noted.