E5 Series Shinkansen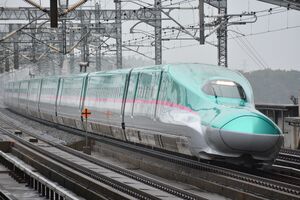 E5 Series set U4 passing through Nasushiobara Station in 2016.
Details

Year(s) built

2009 – Present

Builder(s)

Hitachi, Kawasaki Heavy Industries

Number Produced

590 cars (59 sets) + 1 mockup

Formations

10 cars per set

Years in Operation

5 March 2011 – Present

Fleet Numbers

U1 – U59

Unknown

Type of Electric Train

EMU

Dimensions
(l × w × h)

1043 in (26,500 mm) (end cars) × 132 in (3,350mm) × 144 in (3,650 mm)

Number Operational

380 cars (38 sets)

Number Preserved

0

Number Scrapped

0

Power Source

Pantograph

Electric system(s)

25 kV AC (50 Hz)

Gauge

4 ft 8½ in (1,435 mm)
V - E - T - D
The E5 Series Shinkansen is a 10-car high-speed EMU in Japan. It has been in production since 2009, for JR East. The E5 sets run the new Hayabusa services between Tokyo and Shin-Hakodate-Hokuto, on the island on Hokkaido.
The major innovations in the E5, were first used in the experimental Shinkansen trainset "Fastech 360S". The E5 is able to run services at 200 mph (320 km/h), but until 2013 will be limited to 186 mph (300 km/h). The E5 trainsets are designed to work coupled with the E3- and E6-Series sets for special duties. When coupled with another type of set, they are limited to 170 mph (275 km/h).
The production sets have a new seating class in the last car (10). Called Gran Class it is designed to be more luxurious than the Green Class (first class) carriages, hence why it was called "Super Green Car" originally. The Gran Class features 2+1 row seating arrangement, a seat pitch of 51.2 in (1,300 mm), seat width of 20.5 in (520 mm) and a maximum reclining angle of 45 degrees. As opposed to the Green Class with a 2+2 row seating arrangement, a seat pitch of 45.7 in (1,160 mm), seat width of 18.7 in (475 mm) and a maximum reclining angle of 31 degrees.
The pre-production set, U1 (formerly S11), has plug doors immediately behind the driver's door as opposed to recessed sliding doors as seen on the full-production sets; the set still retains its plug doors even after its modification to full-production standard.
The first set (S11), a pre-production set, was delivered in May 2009 for testing. S11's first service run was on the 9th of December 2009. U2, the first production set, was delivered in December 2010. U6, the latest E5, was delivered on the 27th of September 2011. Set S11 was modified to full-production standard in February 2013 and renumbered U1. A mockup of a E5 Series cab car was built in 2018 and numbered U0; it is displayed in the Railway Museum in Saitama, Japan, with 400 Series Shinkansen car 411-3.
Specifications
Edit
Built: 2009-present
Builder: Hitachi, Kawasaki Heavy Industries
Number built: 9 sets
Number in service: 37 sets (Dec 2017)
Number under construction: 55 sets
Formation: 10 cars per trainset
Capacity (people): 731 (658 standard + 55 Green + 18 Gran Class)
Car body construction: Aluminium alloy
Car length: 82 ft (25,000 mm) (middle cars), 86 ft 11 ft (26,500 mm) (head/tail cars)
Width: 11 ft (3,350 mm)
Height: 12 ft (3,650 mm)
Maximum speed: 200 mph (320 km/h)
Power: 13,360 hp (9,960 kW)
Electrical system: 25 kV AC, 50 Hz overhead wires
Collection method: Pantograph
Gauge: 4 ft 8½ in (1,435 mm)
References
Edit