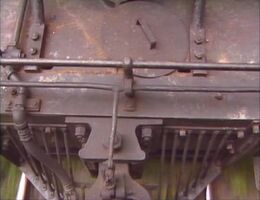 A CowCatcher, Also Known As a Cattle Catcher or Pilot, is a structural sub-assembly, typically mounted on the front beam of 1800s era steam looks. They're intended to deflect obstacles (wildlife, cattle, rocks, trees...) on the track that could derail the train; they also act as a basic snowplow in winter. CowCatchers were originally fitted with an Extended Link for Link&Pin couplers, then later had Janney\AARC\MCB5\Transition couplers. The use of CowCatchers declined as Diesel\Electric loks replaced Steam loks, however SnowPlows are routinely fitted to modern loks.
Community content is available under
CC-BY-SA
unless otherwise noted.