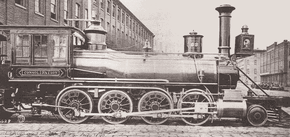 The Consolidation was a standard gauge 2-8-0 "Consolidation" type steam locomotive built by Baldwin Locomotive Works in July of 1866, the Consolidation was named to commemorate the merger of the Lehigh and Mahanoy with the Lehigh Valley Railroad as #63.
It was the most popular type of freight locomotive built in the United States to operate on the Lehigh and Mahanoy Railroad.
Alexander Mitchell, master mechanic of the Lehigh and Mahanoy Railroad, designed this locomotive to move heavy trains of anthracite over the steep inclines, or grades, of that line. The engine's eight connected driving wheels provided ample power, and the two-wheel lead truck allowed the locomotive to round sharp curves at moderate speeds without derailing or damaging the track.
The Consolidation was retired in 1912 from active service after operating nearly 377,000 miles and later it was sold for scrap.
Trivia
[
]
It appeared featured in the introduction of Sid Meier's Railroads.
Its a usable locomotive in the Kaylpso media game Railway empire.
The tender of this engine was an example of the tender that has a cover on top to keep the coal clean without getting wet from the rain, and snow.
The B&O Railroad Museum has a scale model of the locomotive seen on display.