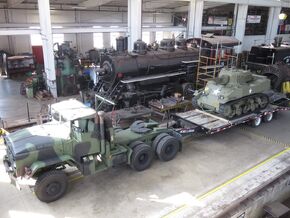 Chicago and North Western No. 175
is a class R-1 4-6-0 "Ten Wheeler" steam locomotive. It was built in 1908 by Alco for the Chicago and North Western railway.
This engine used to haul passenger and freight trains on The Chicago and North Western.
The locomotive was owned and bought by Clint Jones for use on Keweenaw Central tourist along side with Cooper Range #29 in the 60s and 70s.  
This was the last steam engine to travel through Antigo where it haul a last excursion in 1957 and it was stored on the Copper Range Railroad back in the early 1970's.
This locomotive is use on the Keweenaw Central tourist line along with Copper Range #29. The tender which is lettered for Northern Pacific was a replacement for the original CNW tender which apparently was beyond repair.
The locomotive was abandoned in 1972 when Cooper Range abandoned its track north of Hancock then in 1974 two years later the locomotive was donated to the Quincy Smelter where it was put in storage and it still has the Northern Pacific Tender.
On January 19th, 2018, The Steam Railroading Institute of Owosso, MI publicly announced the purchase of #175. The locomotive will be moved by road to Owosso in late spring of 2018. Once delivered, an extensive restoration to operating condition will begin.
This locomotive is one of only three remaining CNW R1's. The other two are Mid-Continent's 1385 and 444 at the Forney Museum in Denver Colorado. Considering that there were 325 of these locomotives built, that is not very many. Then again, three is far better than none.
Chicago & North Western Railroad was persuaded to bring the locomotive out of its retirement corner.
The locomotive had been at the Quincy Smelter from 1974-2018.
C&NW 175 is a unique due to its Walschearts valve gear. 1385 has Stephenson gear which was more common on the R-1s and is why it weighed less than 1385.
It was to supposed have been donated to the National Railroad Museum in Green Bay, Wisc. However, after being stored in Winona, Minn., for many years and deteriorating badly, the museum didn't want it.
No. 175 was then moved to Michigan's Keweenaw Central tourist railroad, and when it closed the locomotive was stored.
In 1961 it was sold to the Winona County Historical Society in Winona, MN.
Community content is available under
CC-BY-SA
unless otherwise noted.