The Chessie System Railroad Corporation (or simply Chessie System, Chessie or, CS)  was a railroad corporation or holding company which owned three railroads: the Baltimore And Ohio (B&O), Chesapeake And Ohio (C&O), and Western Maryland (WM) railroad companies in the Eastern United States in North America.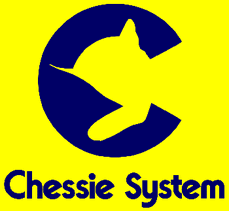 The C&O initially created the corporation and served as the leading company or stockholder for such (though the railroad itself initially established and controlled everything as a whole, while the B&O and WM were responsible for freight operations).
The company officially existed from 1973 to 1980; yet was dissolved up until 1985 due to the merger with the Seaboard System Corporation, thus the creation of the CSX Corporation.
In 1972, the Chesapeake And Ohio (C&O) railroad negotiated plans to merge with the Baltimore And Ohio (B&O) railroad due to covering most of the same trackage, and that both railroads were practically "neighbors" who never interferred with one another (except for several occasions). The initial success of the Penn Central merger led to the inspiration for most "neighboring" freight railroads to acquire one another by merging as a result of "staying alive" during the "Decline of Railroads" era which occurred from 1959 to around 1985 (minus the "Mega Merger" era from 1988 to 2002), as a result of trucks and interstate "super highways" over-taking trains and railroads with revenue freight, general goods, and consumer product service (besides the decline of passenger service leading to the formation of Amtrak).
But as a result of financial issues leading to the initial bankrupcy of the Penn Central in 1973-1974, the Interstate Commerce Commission (Department of Transportation) objected the plan for the proposed merger between the B&O and C&O until further notice until things were situated between the bankrupt Penn Central, the Reading Railroad (RDG), and the Erie-Lackawanna Eastern-based railroads which were also on the verge of becoming financially debt and almost into bankrupcy due to severe revenue loss. Thus, during the formation of the Consolidated Rail Corporation (Conrail) and the government's attempts to solving the issues and redeveloping the troubled Eastern railroad economy between 1973-1976 (Conrail, in-turn wasn't officially established until April 1, 1976; three years after the Chessie's establishment), the Chessie System Corporation was established on  February 26, 1973 as a result of the ICC's realization after being convinced by then-C&O president Cyrus S. Eaton of the state or status of the troubled rail economy in the East, and opted to give the Corporation a chance at an attempt to redevelop freight revenue throughout the East Coast on the B&O and C&O's respective systems (while the ICC focused on the PC and numerous other failing railroads by loaning funds, though proved to be even much more less than successful).
During the first year of operation for the corporation, the C&O
Community content is available under
CC-BY-SA
unless otherwise noted.