Canadian National No. 6400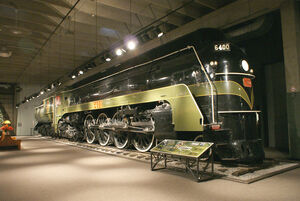 Canadian National No. 6400 as seen today.
Details

Built

06/1936

Class

builder's number

68715

builder

Montreal Locomotive Works

Wheel Arrangement

4-8-4 Northern

tractive effort

52,457

Boiler Pressure

275

cylinders

24x30

Gauge

Standard

driver diamater

77"

Locomotive Weight

236,000

Retired

1950's

Status

Static Display
V - E - T - D

Canadian National No. 6400 is a Class U-4-a 4-8-4 "Northern" type steam locomotive built by Montreal Locomotive Works in 1936 for the Canadian National Railway, and the first U-4 class "Confederation" to be delivered.
The Canadian National Railway used this locomotive for passenger service for much of its career.
The Canadian National U-4 class was a result of wind tunnel research conducted by the National Research Council of Canada (NRC) in the 1930's. These locomotives, with their sleek modern style, also became an important marketing tool for the company.
6400 was preserved not because it was the only surviving U-4; but because it attained fame twice. In 1939, it was chosen to handle the Royal Train for King George VI and Queen Elizabeth of Britain when they made an extended visit to Canada. For this occasion, it was painted black and blue.
During the 1939 Royal Tour, the 6400 only saw use while the train was on CN tracks (since CP tracks were used for half of the journey), and then only in Ontario, with a Mountain (#6028) providing much of the rest of the power of the journey (plus a few Pacifics and two elderly freight Mikados!)
It also went on display at the 1939 New York World's Fair "Railroads on Parade" exhibit.
The locomotive was retired from active service in the 1950's. After retirement, 6400 was placed on display at the National Museum of Science & Technology in Ottawa, Canada. It remains there today, and is also the only surviving U-4 "Confederation".
Community content is available under
CC-BY-SA
unless otherwise noted.