Chicago, Burlington & Quincy No. 5632 was a 4-8-4 Northern type steam locomotive built in 1940 by the CB&Q. It operated in the CB&Q's steam excursion program in the 1950s and 1960s.
No. 5632 was built at the Burlington's own shops in Burlington, IA. Outshopped in August of 1940, it pulled both passenger and freight trains all over the CB&Q system until being retired in the late 1950s.
CB&Q President Harry C. Murphy removed No. 5632 from the scrap lines and had the railroad restore it to operation for use in the Burlington's popular steam excursion program. It was returned to steam in time for a November 2, 1958 excursion between Chicago and Galesburg, IL to honor the CB&Q's famous passenger train, the Aristocrat. No. 5632 became a railfan favorite and continued to pull excursions until 1964 when it became apparent that the locomotive needed an overhaul. It was sent to the railroad's Burlington, IA shops, the same place where it was built, and disassembled for the overhaul.
In 1965, Murphy retired as president of the CB&Q and his successor, Louis W. Menk, discontinued the steam program and ordered the overhaul of No. 5632 to be cancelled. Chicago steam preservationist Richard Jensen purchased No. 5632 in September of 1965 and had it moved to the Chicago & Western Indiana Railroad's 47th Street roundhouse in Chicago where he stored his equipment, including CB&Q 2-8-2 Mikado type No. 4963 and Grand Trunk Western 4-6-2 Pacific type No. 5629.
In 1969, ownership of the C&WI changed and the new owners evicted Jensen from the roundhouse with very short notice. Unable to move No. 5632 and No. 4963, the C&WI illegally sold both locomotives to a local scrapyard. During the move to the scrap yard, No. 5632 derailed on a switch. Not wanting to spend the time and money to re-rail it, the scrap yard cut up No. 5632. No. 4963 successfully made it into the scrapyard and was later traded to the Illinois Railway Museum of Union, IL, where it remains today.
In 1964, No. 5632 was painted gold to commemorate the 100th anniversary of CB&Q commuter train service in Chicago. It was painted gold again later that year for a trip to Kansas City, KS to celebrate the 50th anniversary of the completion of Kansas City's Union Station.
In 1959, the 5632 ran a doubleheader trip between Chicago and Galesburg, IL with 2-10-4 Colorado type No. 6315. During the trip, No. 6315 lost both of its eccentric rods and could not continue under its own power. No. 5632 pushed No. 6315 the rest of the way to Galesburg while also pulling the excursion train.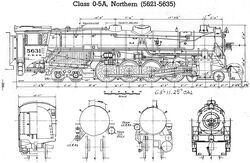 Community content is available under
CC-BY-SA
unless otherwise noted.