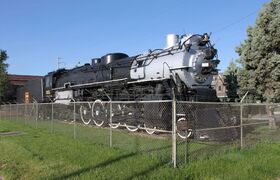 5631
is a Chicago Burlington and Quincy 4-8-4 "Northern" type steam locomotive built by the CB&Q's West Burlington Shops in 1940.
It was used for freight and passenger service on the Chicago Burlington and Quincy Railroad.
The locomotive was withdrawn from service in 1962 after a few years in storage.
It is now on static display at the corner of East 5th Street and Broadway Street in downtown Sheridan, WY.