CB&Q No. 4960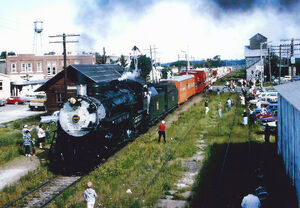 CB&Q No. 4960
Details

built

1923

builder

Baldwin Locomotive Works

classification

2-8-2

Gauge

Standard
V - E - T - D
4960 is a Class O-1-a 2-8-2 'Mikado' steam locomotive. It has hauled numerous excursions, a museum train, and now hauls tourists and railfans on the Grand Canyon Railway in Arizona. Converted to run on waste vegetable oil, the locomotive has been called "the Greenest train in America".
CB&Q 4960 was built by the Baldwin Locomotive Works of Pennsylvania in 1923. 4960 was ordered and used by the Chicago, Burlington, and Quincy Railroad to haul freight until the end of their steam operations in 1960, and was used for excursion service and specials until sold off to live out its life on tourist railroads.
In 1961, the locomotive received new flues, tires, tubes, and more in a major overhaul to continue hauling excursions. 4960 was also painted gold for CB&Q's 50th anniversary of service.
In 1962, 4960 doubleheaded with CB&Q 5632 on the Illinia Railroad Club special to Savanna via Denrock, and returned via the mainline with 5632 running light-engine.
In 1966, the CB&Q retired 4960 and sold it to the Circus World Museum (CMW) to haul their circus museum train throughout Wisconsin. 4960 once had an auxiliary tender, although it is presumably scrapped.
4960 was later leased from the CMW to the Bristol & Northwestern Railroad in Virginia. The railroad was unsuccessful and closed in 1984. The next year, 4960 was sold to the Grand Canyon Railway. In 1989, restoration began.
Today, CB&Q 4960 runs on the Grand Canyon Railway, which runs from Williams, Arizona, to the South Rim of the Grand Canyon. It received a new pilot, a center-mounted headlight, a smokebox-mounted bell, and an all-new larger tender. As of 2011, the locomotive runs once a month and has been converted to burn eco-friendly waste vegetable oil.