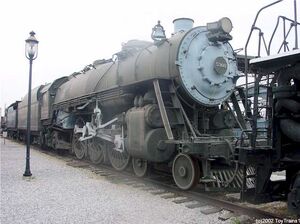 Baltimore & Ohio Railroad No. 5300 is a class P-7 4-6-2 'Pacific' type steam locomotive, built by the Baldwin locomotive works in 1927 for the Baltimore & Ohio Railroad. This type was known as the "President" Class; It is the only surviving member of It's class.
This locomotive was assigned on passenger trains and, as the first of the type built, it was (co-incidentally) named "President Washington", after George Washington, the first President of the United States who was President from 1789 through 1797. It was unveiled at the "Fair of the Iron Horse" in 1927.
The 5300 and its brothers initially hauled the Royal Blue trains between Washington DC and Jersey City, NJ, but they were soon relegated to the western division by the B&O's early dieselisation in the 1930s with the EMC EA/EB units.
It was retired from revenue service in 1958 and is now on static display at the Baltimore and Ohio Railroad Museum in Baltimore, Maryland.
Trivia
[
]
When 5300 and the other 19 members of its class were built for the Baltimore and Ohio Railroad, they were painted olive green with gold and maroon and named after the first twenty Presidents of the United States, as a patriotic gesture. Four members of the class were streamlined, re-classified as P7d, and saw use on the B&O's streamliner, the Cincinnatian.
This locomotive was featured in The Lionel Great Railway Adventures Book, The President Express.
In 2021, the locomotive was moved from the B&O's north car shop where it used to be on display to the restoration shops to be under cosmetic restoration.
See Also
[
]